An app (prototype) that guides the user through an exhibition about Andy Warhol (Marking Time: Andy Warhol's Vision of Celebrations, Commemorations, and Anniversaries) at the Samuel Dorsky Museum of Art (New Paltz, NY) from February 10-July 15, 2018. The app is meant to promote student visitation to the Dorsky through an emphasis on social media and VR, as well as highlight the iterative work of Andy Warhol and provide information beyond the museum walls. This app was created as part of a group project in my Interaction Design class, and I collaborated with
Tara DuNaier
,
Kristoff Lalicki
, and
Alex Mandel
.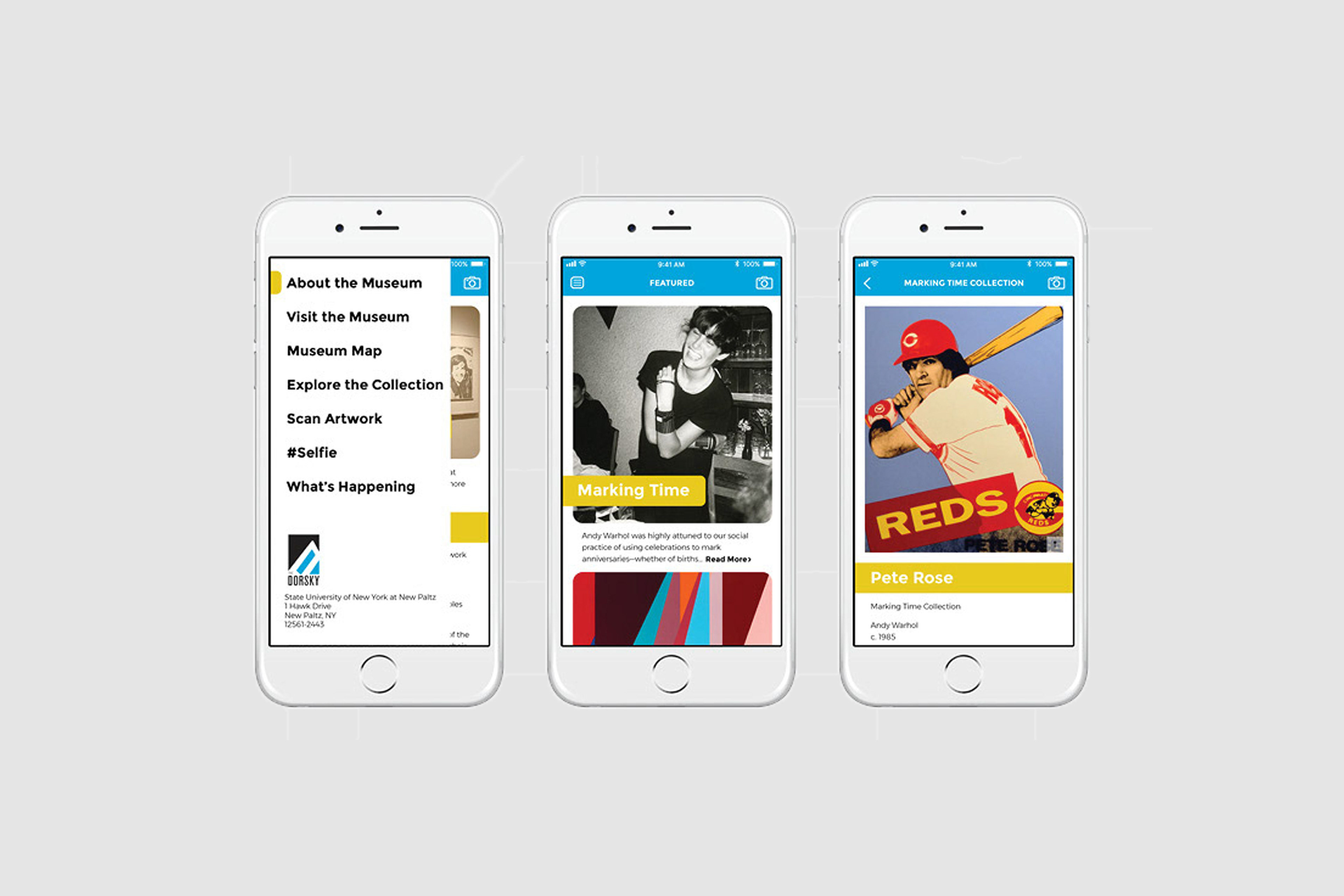 Our first step was to determine what the purpose of the app should be. One was to encourage students to attend the exhibit/museum, and the other was to give visitors more information about the artwork in the collection.
The app has 7 main features. 5 of them—About the Museum, Visit the Museum, Museum Map, Explore the Collection, and What's Happening—are vital parts of most museum apps (during the research portion of the project, we analyzed four existing museum apps—The Broad, The Frick, Rijksmuseum, and the Museum of Natural History—and incorporated the aspects we found most helpful or important in these apps into ours).  The other two, #Selfie and Scan Artwork, were developed to fulfill the two purposes of the app. The #Selfie feature would link up with snapchat and offer geotags and filters specific to the location. The Scan Artwork would allow the visitor to use the camera to scan a piece of art and learn more about the work. For art in the Warhol exhibition, they could also view any iterations of the work that Warhol may have created.
Use the clickable prototype below, or follow
this link
.